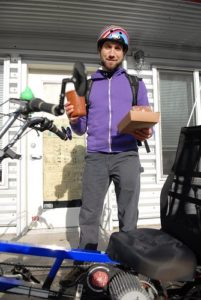 A couple of years ago, a couple of college students made a business plan to make and sell locavore soup and deliver it by bicycle. The students came to Portland and set up their business, SoupCycle.
Jed Lazar and Shauna Lambert are the creative cooks and bicycle peddlers behind the food service business. They source local produce whenever possible and actively pursue environmentally sustainable, socially responsible business practices. They do have help with deliveries from fellow SoupCyclers Jen and Matt and they're avid bicycle advocates twittering support for bike events and get-togethers.
Soups and soup meals are available by subscription. Ordering online is easy and both the soup and the service get rave reviews from Yelp readers. Though delivery is currently restricted to a close-in area known as, "Souplandistan," SoupCycle collects data from those interested in the service and will use it to expand its service area over time.