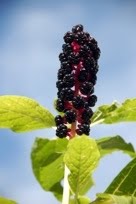 Here's an exciting article by Alicia W. Roberts, Wake Forest University and posted on RenewableEnergyWorld.com website.
Seems Wake Forest University holds the first patent for fiber-based photovoltaic, or solar cells, granted by the European Patent Office in November. A spinoff company called FiberCell Inc. has received the license to develop manufacturing methods for the new solar cell.
And now the scientists at the University's Center for Nanotechnology and Molecular Materials have used the red dye made from pokeberries to coat their efficient and inexpensive fiber-based solar cells. The dye acts as an absorber, helping the cell's tiny fibers trap more sunlight to convert into power.
These low cost fiber cells coated with pokeberry dye could be the key to spreading solar power to developing countries across the globe.