We are on the verge of technological breakthroughs that promise stimulating new careers and may transform old occupational niches. The new frontier of eco-friendly trades will require  retrofitting, designing, and building, which will open green-collar opportunities, that will fall on the labors of highly trained technicians.
Construction Retrofitting
Green technology means nothing if it does not deliver  power to where it needs to be for businesses and residents to utilize. However, the need to decrease the energy used in buildings is great, since 40% of the energy consumed in the U.S. is used by buildings, according to Whole Building Design Guide. Adding "renewables" to the grid will necessitate a great deal of retrofitting work designed to connect existing properties to a clean grid. Everything from construction managers to civil engineers to roofers will be called on to help in this transition. Blue-collar careers, which have long been associated with the construction industry, will now have a host of green-collar applications.
One such position is HVAC Technicians, who ensure that heating, air conditioning, and refrigeration systems are operating at maximum efficiency. According to Realtor Mag, homeowners are  looking to lower energy consumption, and the drop in cost for solar panels and energy efficient appliances are a leading driver in the search for energy efficient methods. HVAC technicians will be in the vanguard of this transformation.
Becoming a successful HVAC technician requires education, training, and personal characteristics. According to the Bureau of Labor and Statistics, technicians earn a certificate or degree from technical, trade, or community colleges, and their training generally takes from six months to two years depending upon the program.
Mass Transit Conversions
Beyond the homestead and business environment, the move to a sustainable energy platform will change the way that we view travel. Promising, high-speed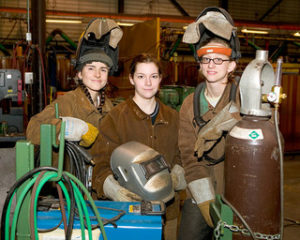 rail (like the California-Nevada Super Speed Train) and intercity trains and trams are expected to help relieve the pressure of overcrowded roadways and environmental pressure of exhaust emissions. On the front line in this new transportation revolution will be highly trained metal workers. In addition to crafting the rolling stock that will be transporting people and goods into the future, welders and metal fabricators will be needed to rehabilitate and expand the existing rail network.
Welders learn their trade from a myriad of sources, and include high school programs, technical schools, and vocational programs. In addition to hands on experience, welders become well versed in reading blueprints, mathematics, and mechanical drawings. Also, knowledge of chemistry and metallurgy are highly recommended for the successful welding student. In addition to having manual dexterity, welders need to have physical strength and stamina, as well as finely honed technical skills and spatial-orientation abilities.
An understanding of electricity is a necessary component of any welder's skill set, according to the BLS,  the industry increasingly relys on the power of computers in its daily applications. The welders of tomorrow, will find themselves responsible for the programming, and use of robotic and computer controlled machines.
Wind and Solar Power
Perhaps the more iconic images of a sustainable energy future are solar panels and wind turbines. Each adds to the energy grid with a renewable energy source, but the growth of both is predicated upon having an array of trained technicians, engineers, and workers to install, maintain, and develop  systems. In fact, the job market for the solar energy industry doubled worldwide in 2013, according to RSI. So whether installed three miles off the coast of New Jersey, or nestled in the foothills surrounding Los Angeles, maintaining wind farms is the responsibility of a host of occupational niches from environmental engineers to heavy equipment operators.
Author Bio:
Audrey Clark is a skilled freelance blogger covering a range of topics from careers and finance to travel and leisure, along with everything in-between. When not writing, she's always on the lookout for her next adventure. Connect with Audrey on Twitter and Google+.