A FUN-FILLED, HANDS-ON SUSTAINABLE LIFESTYLE EVENT!   May 31-June 1, 2014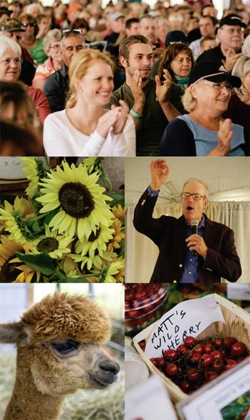 The Green Living Journal is excited to be a media sponsor of the MOTHER EARTH NEWS FAIR. A fun-filled, family-oriented, sustainable lifestyle event. The Puyallup MOTHER EARTH FAIR features practical, hands-on demos and workshops on:
•    Renewable energy
•    Small-scale agriculture
•    Gardening
•    Green building and more
Hear keynote speakers, Joe Salatin, Bryan Welch, Ed Begley Jr. and others. Listen and learn at many workshops and demonstations. Find everything you need for your sustainable lifestyle from the many exhibitors  bringing you the best in: organic food and drink, books, magazines, tools, seeds, clothing, and more.
Less than a 2 hours drive from Portland, say hi to the Green Living Journal at booth #1320.
for more info: http://www.motherearthnews.com/fair/washington.aspx
Puyallup Fairgrounds May 31-June 1, 2014
 110 9th Avenue SW Puyallup, Wash.
Saturday Fair hours: 9:00 am-7:00 pm
 Sunday Fair hours: 10:00 am-5:00 pm
. Weekend Pass at the gate is $30
 
Children 17 and under are FREE!