Faced with a having to renovate a small office space, I decided to learn more about the sustainable options that are available for insulation, floor coverings, heaters, lights, etc., but where to begin?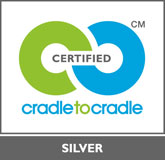 As luck would have it, Classique Floors was hosting a "Sustainable Saturday" event that included free seminars on a whole array of green flooring products. Seemed like the obvious starting point, so off I went.
Since I only had time to take in two of the seven seminars that were offered, I had to make some tough decisions. My first choice was the presentation on Ecoworx carpet tile (Marmoleum was my second seminar, but we will talk about that later). Bill Stobie, Buying Group Territory Manager for Shaw Industries, presented his company's line of commercial carpets that have received "Cradle to Cradle Silver Certification" by the Cradle to Cradle Products Innovation Institute in California. Shaw Industries' carpet products are the only ones to receive this certification.
In 2003, the U.S. Environmental Protection Agency (EPA) awarded Shaw the Presidential Green Chemistry Challenge Award, recognizing Shaw for creating EcoWorx. This recyclable backing has less embodied energy than traditional PVC carpet tiles, while maintaining equal or greater performance. Shaw is one of few manufacturers to ever receive this distinction.
EcoWorx is backed with an environmental guarantee, meaning Shaw will pick up all EcoWorx backed products, at no cost to the customer, and recycle it into more EcoWorx.
What exactly does this mean? In its simplest scenario: you purchase EcoWorx carpet tiles or broadloom from a local dealer. When the carpeting has outlived its useful life, it is removed and returned to the dealer. On a regular basis Shaw Industries gathers up the spent carpeting from the dealers (at no cost to you) in the region and takes it to its shipping facility in Seattle. There it is bundled and shipped to its Evergreen facility in Georgia where it is converted back into the raw materials for manufacturing new carpeting.
This cycle is repeated endlessly in a closed loop.
What if you have old carpeting that has to be removed the first time you buy EcoWorx carpeting?
If you are replacing old worn out carpeting, it is removed and sent to the same collection facility in Seattle. There it is separated according to its backing make-up and the type of fibers used. Carpeting that is made of materials compatible with Shaw's recycling process are sent to the Evergreen facility. Carpeting that is not compatible is converted into energy that is used in the company's recovery process.
If you are a regular reader of the Green Living Journal, you'll recall our recent series of articles on recycling in which we discussed the need to progress from recycling, as we know it today, to a complete materials management approach for the products that we use. The Ecoworx line of commercial carpeting is an excellent example of materials management in that it is designed from the ground up to be recycled back into carpeting again and again.
How well does the system work?
Judith Huck, owner of Classique Floors, sums it up thus, "We send all the carpet we remove from residential and commercial projects to the carpet recycling center in Portland (Environmentally Conscious Recycling Center, ECRC). There it's sorted and if there's a market for it, it's distributed out to companies that continue the recycling chain, especially Shaw. Last year alone we sent over 120 tons of carpet to the ECRC, at no extra cost to our customers."
When purchasing new carpet, make sure your dealer recycles their old carpet.
Cradle to Cradle

Developed by architect William McDonough and chemist Dr. Michael Braungart, Cradle to Cradle certification is one of the most rigorous product certifications in the world. Administered by the Cradle to Cradle Products Innovation Institute in California, the certification is based on a comprehensive quality rating system for the assessment and continuous improvement of products across five categories:

Safe and appropriately sourced materials

Material reutilization

Renewable energy

Water quality

Social responsibility

It envisages production design that creates products that are either biodegradable or are recycled in their entirety to provide the raw materials for new goods. These products will have been produced using manufacturing processes that rely on renewable energy, seek to conserve water, and strive to embrace social responsibility