Choose Your Level of Green Construction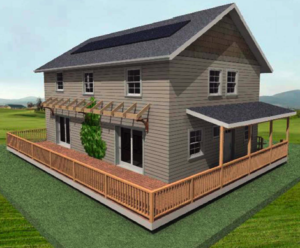 To a lot of people, building green means costly, complicated, and confusing, but it is getting easier as designers and builders find simpler ways of doing things. Structures NW llc of Vancouver, using their 10 plus years of experience building with Structural Insulated Panels (SIPs), has come up with a unique system that makes building green simpler. They created a three level system of pre-designed green construction templates that fit the Northwest climate zone; Green, Greener and Greenest.
Green uses a 6" SIP wall that provides a true R-21.7 whole wall R-Value as determined by the Oak Ridge National Labratory. Combined with a 10" R-40 SIP roof panel, this system exceeds standard code. In addition, the large SIPs panels make for a much more airtight home (1-2 air exchanges per hour vs. 3-5 for Energy Star construction). Another advantage is that there is up to 50% less lumber and therefore less thermal bridging. Combining this enclosure with standard code windows can provide a more energy efficient home than a normal stud framed structure.
Greener is a step up in R-value to an 8" R-32 wall and a12" R-48 Roof panel, and still with the easy sealing and less thermal bridging of the Green system. In addition the windows are above current energy code to make a much better enclosure. This upgrade is often only a few thousand dollars more than the green.
Greenest is for clients who want to move toward Passive House or Net Zero construction. This system relies on a double wall to provide almost no thermal bridging and an R-48 to R-60 value. It is combined with a 12" R-48 Roof panels and triple pane insulated frame windows. Combining this system with energy efficient appliances and lighting, plus a correctly sized solar PV array, will make reaching net zero energy usage easier to achieve.
For more info: www.structuresnw.com
To read more about Patrick's work check these 2 current articles in Home Power Magazine.
http://www.homepower.com/articles/home-efficiency/design-construction/green-greener-greenest
http://www.homepower.com/articles/solar-electricity/design-installation/solar-sips