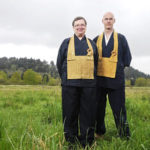 The land at NE 82nd and Siskiyou has a checkered past. It is a former landfill, capped in 1982. Many of those living and working in the Madison South and Roseway neighborhoods have seen this area attract unwanted activities and attention. The site has remained derelict, despite its tremendous potential for the neighborhood, city and region.
The Dharma Rain Zen Center, a Soto Zen Buddhist temple, sees great potential in the Siskiyou property for a new campus that is sustainable, beautiful and benefits their congregation and the neighborhood alike.
They plan to create an attractive, compatible, low-impact campus that serves the community. They will:
Restore the 14-acre parcel to a vibrant, biologically • sound and diverse state, removing the plentiful invasives, designating a third of the site as habitat areas and naturescaping the entire site. This will form a wildlife corridor between the Rocky Butte/Gateway, Green/Grotto habitat complex and the Roseway Golf Course/Madison High School/Glenhaven Park complex.
Protect the health of the watershed by minimizing • infiltration of rain through the landfill and prevent the leaching of landfill contents into the aquifer. Rather than just paving the entire site, which would be the default, they will do this by rainwater harvesting from rooftops and driveways, and extensive plantings and bioswales.
Maintain the methane abatement measures currently • in place.
Utilize green building methods, guided by a green • design philosophy.
Improve neighborhood connectivity, safety and beau• ty by encouraging collaboration between Dharma Rain's membership, local citizens, non-profit groups, public agencies and private enterprises on aspects of the site development, such as paths through the site.
Create public gathering areas, and a residential • co-housing complex that are models of sustainable, community-oriented and multi-generational design.
For more info: http://www.dharma-rain.org