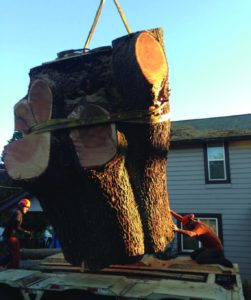 Several years ago while renovating a landscape for an older home being flipped by a realtor, my whole thinking about lumber completely changed. The house, long occupied by an aging woman, had been in a state of disrepair. The new property owner, John, removed pretty much all of the vegetation in order to make sense of the outside space. Unfortunately, this meant cutting down all the trees. In the back yard remained a cherry log. After a few days of looking at it, I asked John when he was going to buck it up for firewood and get it out of there. He said, "Firewood!?! That's furniture, baby!" A few days later, a guy named Jeff Nelson with Treecycle NW showed up and explained that he had just purchased a portable sawmill and planned to mill the log in his driveway. I suddenly realized that so many of the trees I had planted or cared for had the potential to provide us with wood. I literally did a 360 in the back yard and could see fir, oak, cherry, and so many other species of trees that grow lumber.
Over the course of several years, I have milled, dried, and built many things out of trees from in and around Portland. Yes, there have been challenges, like hitting metal which can damage a blade, as well as getting logs that seemed great to me, but to the trained eye would not be good for making spatulas! At the end of the day, there is a lot of high quality urban wood that has been used to build beautiful things.
Author of Harvesting Urban Lumber, Sam Sherrill, estimates that every year in the US, billions of dollars of usable lumber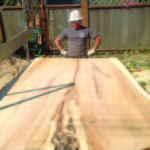 from urban trees is cut up for fire wood, mulched, or taken to the dump. While some urban trees can have a variety of defects, such as too many branches and metal embedded in the wood, there are vast quantities of beautiful lumber going to waste.
Over the last few decades, a lot of technology has been developed to mill trees with portable sawmills such as Woodmizer bandsaws and swing blades/slabbing mills like the Lucas Mill brand. Granberg International makes an Alaskan mill which is a frame to which one can attach a chainsaw and cut slabs and beams. We recently milled 60 slabs of spalted silver maple in a backyard in NE Portland with our Lucas Mill.
In and around Portland there are several companies milling urban lumber, including Goby Walnut, Jewel Hardwoods, Treecycle NW, Portland Stump Grinding and Urban Hardwood Recovery. Most of our inventory is not yet available as it takes several years to air dry wood slabs.
Across the globe from Portland to Rio De Janiero, lumber-producing trees can grow well in urban and semi-rural areas. Over the last few years I have become a strong advocate of planning for the future with urban lumber in mind so that every tree, when it comes down can be turned into valuable building materials rather than firewood and mulch. This means planting more trees closer together and removing the lower branches. Of course, not sticking metal into the trees would be helpful as well! In 50 years, a considerable percentage of lumber across the world could come from sustainably managed forests right where we live.
Currently, I am working with Oregon State Legislator Julie Parrish on a co-op model which will create a framework so that urban and semi-urban land owners across the state will be able to plant and care for trees in a way that they can create building materials and jobs while reforesting land. We believe we can create a bipartisan urban lumber system which has mixed-aged, mixed-species forests without clear cutting.
In the meantime there are a few things we all can do to build the urban lumber movement:
Source urban lumber products when possible.
Plant lumber-producing trees and grow them with a  straight trunk while removing the lower branches (10-20 feet up).
Talk to local officials and tell them to support urban lumber.
David Barmon co-owns Fiddlehead llc, a Portland Oregon-based landscape construction and consulting company which promotes an integrated approach to food, forestry and water.. He has worked on several edible garden projects for Gerding. Last fall, he installed the landscape at the Full Plane House, one of the first Living Building Challenge projects in North America.
Photos courtesy Dave Barmon