Dial In Your Home's Temperature from Anywhere
Whether your home's heating and cooling system runs on natural gas, coal, nuclear power, geothermal, wind, or solar, maximizing the system's efficiency will benefit both you and the environment.
Of course, there is plenty that we can do to our homes to control their climate more effectively: Improving insulation and eliminating gaps around doors and windows is a good place to start. The biggest factor in lowering heating and cooling bills, however, often boils down to our own behavior.
Fortunately, technology is making the control of building temperature far easier than ever before, and a lot more fun! Remotely programmable thermostats are quickly becoming the norm for new homes and HVAC systems, many of which can be monitored and adjusted from our smartphones. Installing one of these thermostats only requires an investment of $100 to a few hundred dollars. With the ability to reduce energy waste literally in your hands, you'll likely recoup your investment within a year.
Here are a few of the programmable thermostats making waves in the market in 2013: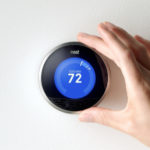 Nest (http://www.nest.com/living-with-nest/)
Taking a cue from Apple with its sleek simplicity (in fact, the company was founded by an Apple executive), Nest is already the most widely recognized remotely programmable thermostat. It's round interface features attractive colors and a simple turn-dial to adjust the temperature.
Nest's primary selling point (and the one the company seeks to market most heavily) is its ability to learn a household's habits, adjusting automatically when the occupants are sleeping, waking up or away at work. Of course, not every day is the same, so the Nest includes an accompanying iPhone and Android app that lets users adjust it from anywhere. If there's any downside, it's that the Nest will cost upwards of $250, while other options can be found for less.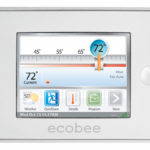 Ecobee Smart Thermostat (http://www.ecobee.com/solutions/home/smart/)
Whereas Nest puts an emphasis on simplicity, Ecobee's Smart Thermostat focuses on offering users precise control. With an interface that's mirrored on its phone and tablet apps, as well as through web control, Ecobee lets users schedule their temperature throughout the day on a calendar, which may be especially useful for households whose daily schedule doesn't follow any noticeable pattern. For those who enjoy a little self-competition, the graphs that show daily and monthly savings can help users to truly maximize savings. Pushing comfort levels and tracking the resulting savings allows users to decide how much of a comfort trade-off to make for maximum savings. With prices in the $200+ range, this is not the cheapest choice.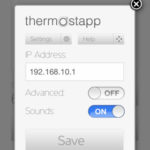 Thermostapp (http://thermostapp.redfoundry.com/)
Although Thermostapp is technically an iPhone app and not a thermostat, it's one of the best budget options for homeowners ready to make the change to a remotely programmable thermostat. Thermostapp offers a simple, easy to follow interface that is compatible with thermostat models by 3M, Homewerks, and Radio Thermostat, some of which can be found in the $100 range. Although they may not 'learn' your habits like the Nest, you will benefit from complete control of your thermostat, regardless. When you consider that just over 50 percent of our utility bills are due to heating and cooling, it makes sense to spend $100 so that you can shut down the HVAC during the day but heat or cool the house to your preferred temperature with a tap of your finger during your commute home.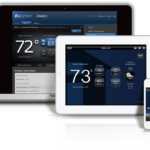 Lennox icomfort (http://www.lennox.com/icomfortwifi/)
For homeowners who appreciate the learning aspect of the Nest but the detailed control of the Ecobee, the Lennox icomfort offers the best of both worlds. Marketed as the "most advanced comfort control solution," it lives up to its name through a detailed interface that shows indoor and outdoor temperatures, five day weather forecasts, and corresponding mobile apps that allow user control from anywhere, although prices can break the $300 range.
Don't forget that you'll need home WiFi to allow most of the units to work and be controlled by your smartphone or device. Leading companies like Comcast and Xfinity rope 'wireless home management' into some of their package deals. Once you're up and running, just a couple degrees difference in your home's air temperature can result in emitting or saving tons of carbon dioxide from the atmosphere.
If you have had the chance to try out a remotely programmable thermostat or have installed one in your home, we'd love to read your comments here. What was the process like? Would you recommend it to others? How much are you saving each month?
Garret Stembridge of Extra Space Storage helps individuals and businesses with self storage needs. Extra Space Storage has mini storage locations in over 400 cities, including a Riverside self storage yards along with Storage units in Birmingham and Hoover, CA..