Artful Accessories from Recycled Bicycle Inner Tubes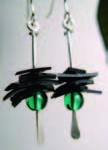 When Julia Garretson looks at bicycle inner tubes, she sees jewelry. When others look at her jewelry, they see- well… Jewelry.
As a member of Portland's Trillium Artisan Etsy Team, Julia is one of several local artisans dedicated to using recycled materials in her work. The end result is a wonderful collection of handmade paper and jewelry that she markets locally as well as online.
Having grown up in Massachusetts, the clever craftswoman brought her passion for making things with her hands to Portland. Here, she graduated from Oregon College of Art and Craft with a degree in

metalsmithing. The talented artist forges, welds, builds with cob, makes lampshades, and teaches.
Did we mention that she also takes part in the Cracked Pots Art Show?
Just looking at Julia's work is happy-making. The fact that it is made from materials that might otherwise be clogging up the landfill is a windfall worth wearing. This is definitely adornment that won't leave the wearer feeling flat.
For more information about Julia Garretson's work, visit her Etsy shop online at: http://www.etsy.com/shop/JuliaGarretson