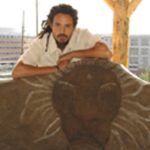 Artist Scott Howard is a community resource whose sculptural architecture is often finished with earthen paints and plasters. Howard heads up Portland-based Earthen Hand Natural Building and is at the forefront of a growing movement of people promoting earthen building techniques.
In addition to designing and building the company's architectural-scale sculptures, Howard contributes ceramic art, stained glass windows, earth ovens and custom furniture. He also conducts natural building workshops in Portland and abroad. The goal of these workshops is to teach a set of low-cost, do-it-yourself earthen construction techniques by involving students in building a structure.
One example of Howard's local work is the recently completed Newberry House Mud Hut project. The earthbag house was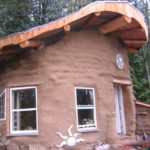 built in a series of eight workshops over a period of about six months. Some two-hundred individuals contributed to the construction. Hundreds of bags, supplied by McMenamins Brew Pub were repurposed as containers for earth.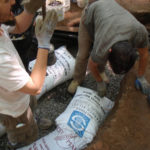 The earth-filled bags were stacked to construct the house walls. The natural materials needed for the building were locally sourced: Most were from the building site, or from a short distance away. Some features, like windows, were from salvage.
In Portland, buildings are kept small, under 200 SF, so building codes do not become an issue. The methods and materials in natural building construction are highly sustainable. Structures built of earthen materials are more likely to last for many centuries in contrast to a few decades for most contemporary stick-framed buildings.
Earthen Hand workshops offer families a unique experience and are an excellent eco-vacation choice. Local workshops are rich learning experiences that can also serve as 'staycations.' The hands-on training, discussion, lecture and cultural exchange, whether local or abroad, benefit both children and adults.
In-depth workshop information as well as much more about this interesting and worthwhile organization are available online at http://www.earthenhand.com. The organization accepts donations and the site includes a donation button for those who would like to support Earthen Hand's educational, environmental and humanitarian mission.
Upcoming workshops include:
A Cross-Cultural Earthen Building Workshop January 9th – 25th, 2010 – Dogon Country, Mali
The schoolroom project will feature dome building with earth bag construction, cob construction, stone masonry, and rubble trench foundations. In addition to the joy of providing a new schoolhouse for the local residents, participants will gain exposure to the Dogon culture and society , drylands permaculture, Dogon grainery construction, and Dogon adobe brick construction.
Puerto Rico Earthbag Dome Intensive April 10th-20th, 2010 – Puntillas, Puerto Rico
Participants in this project will learn how to build and design earth bag domes using earth bag construction, cob construction, earth plasters, and rubble trench foundations. Other activities on the trip will include evening talks about Puerto Rican history, culture and sustainable forestry in Puerto Rico; salsa dance classes; rainforest experiences; a beach trip; kayaking in a bioluminescent bay, and music with Andres Rua.
Read the related Green Living Journal article online: Earthen Hand– The Local Application of Traditional Building Techniques
Reference: The Earthen Hand