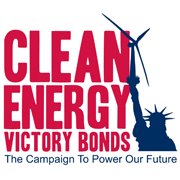 Green America has, for several years, been promoting the idea of Clean Energy Victory Bonds which would make it possible for Americans to invest in clean energy . The problem has been that it takes an act of Congress before  the U.S . Treasury can issue these bonds.
According to the Green America blog, such a bill was introduced to the House of Representatives in August of 2012.
From the Green America blog here's a brief overview of this program:
"Clean Energy Victory Bonds (CEVBs) are proposed U.S. Treasury bonds modeled after Victory Bonds sold during the First and Second World Wars.  During World War II, 85 million Americans purchased Victory Bonds that generated $185 billion (over $2 trillion in today's dollars) for the war effort.  Today, in the search for new clean energy sources, America faces the same sense of urgency to find a national solution.  Through the same patriotism demonstrated during WWII, CEVBs would allow Americans to invest billions of dollars in clean energy.  All Americans could participate in this investment towards the future of clean energy, energy independence, and job creation as the bonds could be available for as little as $25."
More information is available on the Clean Energy Victory Bonds' website.