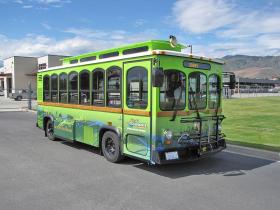 In the last couple years, you've seen mass-produced, 100 percent electric cars take to the streets in the Northwest. In the same vein, now come the first battery powered buses. And we're not talking about trolley buses that get juice from overhead wires.
Wenatchee-based Link Transit is the first out the gate in our region. It plans to replace five diesel-powered trolley buses with battery electric models. A California company called EBus has delivered three so far. Link Transit general manager Richard DeRock says right now the battery buses are just running a few hours in the mornings while bugs get worked out.
Read the full article here.