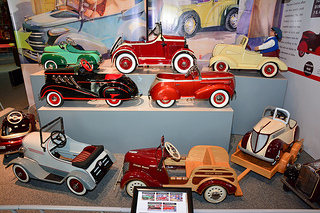 After years and years of planning, lobbying and testing, green cars have become a viable alternative for both makers and consumers.. Cars are available with hybrid or alternative fuel systems, so car buyers can choose from a wide range of eco-vehicles to ease the environmental angst of a growing number of ecologically aware consumers.
In Portland, the demand for green is ever more evident. "Used Green & Hybrid Cars for Sale" is now a category in The Oregonian's classified section and the April 2013 issue of Green Car Reports named the Leaf as outselling regular vehicles because of Oregon's clean grid and abundant charging stations. In SE, Hawthorne Auto Clinic is one provider who services both hybrid and conventionally-fueled cars and they bolster their mechanical services with easy drop-off and free bus and MAX tickets.  Sellwood's Tom Dwyer Automotive Services is certified by the Pollution Prevention Outreach program and takes pride in service that is green.
You may find a great deal buying last year's models and with all the infrastructure in place to support your choice, why hesitate?
Below are the ten top green cars of 2013.
10. Lincoln MKZ – Lincoln is a brand that has usually signified luxury, but its latest offering, the MKZ, is as modern and as technologically advanced as any of its competitors. The car has a hybrid power train and specialized MyLincoln Touch information and entertainment system. It also has an attractive style with its coupe-like profile.  The gas electric mid-size sedan is Lincoln's best work in a long time.
Fuel efficiency for city/highway/combined – 45/45/45 miles per gallon
9. Toyota Avalon – The Avalon has been around for awhile now but the 2013 variant features a gas-electric power train and has mileage which qualifies it for the forty miles per gallon club. It is also a supremely comfortable car.
Fuel efficiency for city/highway/combined – 40/39/40 miles per gallon
8. Honda Fit – The electric Fit is the second all electric car which Honda has marketed in the United States. This version shares most of its parts with the gas powered version of the Fit.  The Fit EV is a limited-edition, lease-only option. However, the Fit EV is a brilliant concept.  Light weight yields performance and efficiency with almost unbelievable mileage figures.
Since this is an all-electric car, mpge stands for miles per gallon equivalent. The EPA states that 33.7 kWh of electricity is equal to a gallon of gasoline and in the city, the Fit EV can do 132 miles on 33.7 kWh of energy.
Fuel efficiency for city/ highway/ combined: 132/105/118 mpge
Range: 82 miles
7. Volkswagen Jetta – This is the first generation of Jettas to be a gas-electric hybrid. It does well as a European sedan with a combined mileage of over forty-five and a price tag of under thirty thousand dollars. This is a car that is inexpensive, green, and very fun to drive.
Fuel efficiency for city/highway/combined: 42/48/45 mpg
6. Ford C-MAX Energie – The C-MAX Energie is the most affordable plug-in hybrid on the road today . It is aiming to win the affections of the eco-conscious customer who is worried about range. It has an all-electric range of 21 miles after which, the car's gasoline engine kicks in. It's isn't boring to drive either, making it a very decent pick among some really promising cars.
Efficiency: First 21 miles: 100 mpge combined | Next 599 miles: 43 mpg combined
5. Toyota Prius Plug-In – The Prius comes with a 50 mpg rating, space-efficient interior, lots of standard features and a noiseless, comfy ride . The amazing 50 mpg rating is reason enough to overlook it's limited electric-only range.
Efficiency: First 11 miles: 95 mpge combined | Next 529 miles: 50 mpg combined
4. Chevrolet Volt – The Volt has more range than other all electrics as well as an efficient gas engine mileage delivery for gasoline-fueled miles. This nicely styled car  is perfect for those looking for the capacity for a extra electric miles to keep small trips, such as going to the grocer's or the mall, dirt cheap.
Efficiency: First 38 miles: 98 mpge combined | Next 344 miles: 37 mpg combined
3. Ford Focus – The Focus is Ford's tried and tested hatchback . Older models can still be found with used car dealers in Portland and elsewhere around the nation. The 2013 variant gets an Electric kick and features a powertrain that combines a 107 kW electric motor with a liquid cooled Lithium-ion battery.
Efficiency: City/highway/combined mpge: 110/99/105 | Range: 76 miles
2. Tesla Model S –Tesla has made the electric car a thing of beauty. The Model S, with its acceleration and practicality is one of the most desirable cars on the market, electric or otherwise. It also has a lot of space inside and an EPA estimated two hundred and sixty-five mile range.
Efficiency: City/highway/combined mpge: 88/90/89 | Range: 265 miles
1. Nissan Leaf – This car is immensely practical if you're looking for refinement, range, usefulness, and value. Nissan has always made reliable cars that deliver value for price and the Leaf's prices have been cut by almost seventy-five hundred dollars. This means that the Nissan Leaf is now available for twenty two-thousand dollars.
Efficiency: City/highway/combined mpge: 130/102/116 | Range: 75 miles
Lee Wilford is a former car designer who has worked with the top manufacturing firms in the country and car galleries abroad. Lee has been an advocate for green cars and has been vocal in his support to curb the cost of buying an ecologically efficient car. He can provide opinions on used cars to buy from used car dealers in the St. Louis for those in the second-hand car market.