Free workshops put on by East Multnomah County Soil & Water District on Naturescaping, Site Design, and Rain Gardens.
Attend  FREE workshops to learn how to create low-maintenance landscapes that conserve water, prevent pollution and create healthy habitat for local birds & wildlife. Workshops are free and offer low-cost, sustainable gardening tips & resources for all levels of do-it-yourselfers who want to dig up fresh ideas for their yards & gardens.
Workshops will be held at Bridgeport United Church of Christ located at 621 NE 76th Ave, Portland, OR 97213. Space is limited and advanced registration is required. Register online at http://www.emswcd.org/workshops-events/register-for-a-workshop or call 503-222-7645 for more information.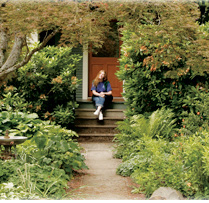 Naturescaping Basics – Sunday, October 20th from 1-5pm
Learn how to design your landscape to reduce water use, decrease storm water runoff and save you time, money, and energy – all while providing a beautiful habitat for birds, wildlife, and you!
Rain Gardens – Sunday, November 3rd from 1 – 5pm
Learn about the critical role rain gardens can play in urban stream restoration, and how to construct your own!
Site Planning 1 – Sunday, November 17th from 9am – 1pm
An extension of Naturescaping Basics, you'll learn the steps involved in planning a landscape or project: how to map your property, assess your garden style and needs, and work on a group design scenario.