Make a Difference in 2014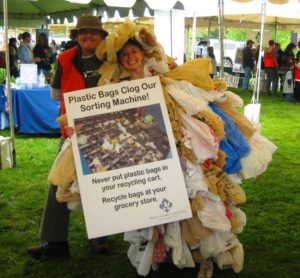 The Master Composter/Recycler Program invites Clark County residents to join others in the community with a passion for sustainability and become a Master Composter/Recycler. Applications are being accepted for a free "learn and serve" volunteer training in composting, recycling, and other waste reduction and sustainability techniques. This comprehensive training will include backyard composting, vermicomposting, green cleaning, green building, recycling, and more.
Master Composter/Recycler volunteers help promote a healthy and sustainable community as waste reduction ambassadors. They contribute thirty hours of service over the course of the following year in exchange for the free training – sharing their skills and knowledge about sustainability. This community service can include tabling at community events, helping to host workshops, environmental education, administrative help, creative work, and helping to operate composting demonstration sites.
Training begins in early February and will occur Thursday evenings, February 6 through April 10, 2014 from 6:00 to 8:30 p.m. at the Clark County Operations Division Conference Center at 4700 NE 78th Street in Vancouver, WA, 98665.
Space is limited and pre-registration is required. To download an application visit www.columbiasprings.org/mcr For more information call 360-882-0936 x 224, email mcr@columbiasprings.org
The Master Composter/Recycler Program at Columbia Springs is funded and supported by Clark County Environmental Services.