The Gorge Owned Business Network (GO!) invites you to the historic Sunshine Mill in The Dalles on Thursday, March 14th.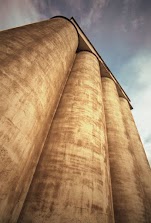 Learn the history behind this fascinating renovation project and get a chance to tour the space with Chief Business Development Officer, Natasha Martin. Her parents, James and Molli Martin, took over the mill in 2009. The Martins turned the mill, which operated as the Sunshine Biscuit Co. from 1908-78, into a unique artisan plaza, event venue and a tasting room for Quenett Winery and Copa Di Vino. There is also an amphitheater, courtyard and bocce ball court for visitors to enjoy.
Aside from serving as the bottling facility for Copa Di Vino winery, the mill is home to Kelly Wheat Pancake Mix. The Martins have a vision to build-out a 42-room hotel in the mill's silos — a plan that still must be approved by The Dalles Planning Commission. Learn about this and more at Green Drinks on March 14th.
Green Drinks is open to the public and a $5 donation is suggested at the door for all non-members of the Gorge Owned Business Network. Light appetizers will be provided and wine by will be available. Music by Ben Ballinger will begin at 7 p.m.
Event Details:
What: Gorge Green Drinks
Where: The Sunshine Mill, 901 E Second St., The Dalles, OR 97058
When: Thursday, March 14, 2013, 5:30 – 7 p.m.
Cost: $5 suggested donation for non-GO! members
About Gorge Owned Business Network
The Gorge Owned Business Network (GO!) aims to advance Gorge-owned businesses with a commitment to a sustainable and prosperous community. With more than 120 members, GO! is the only Gorge-wide business network promoting local ownership and sustainability. Programs include Gorge Green Drinks, Gorge Bike Commute Month, GO! Local Month and more. GO! is a member of the Business Alliance for Local Living Economies (BALLE) and a project of the Columbia Gorge Earth Center. More info: www.gorgeowned.org