The signs of spring are definitely here.  Spring rains, spring flowers and the Better Living Show.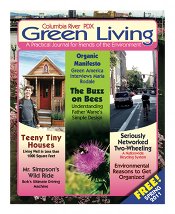 It was great to see what was new and visit with friends at the show.
You can read about some local spring sharing in the spring issue of the Green Living Journal.
Portland Yard Sharing is a website that coordinates yard sharing for gardeners without yardspace, and also lists Portland area food buying clubs.  What a great way to create and encourage community around the staples of life.
Portland Food Exchange maintains a website that allows users to coordinate Organic food exchanges and trades. You could trade your organic tomatoes for organic eggs or milk. Trade the fruits of your labor with friends and neighbors for theirs.