Brighid's Circle LLC is presenting two free films exploring food security, permaculture, and new methods for feeding our families and communities.
Rebecca's Wild Farm: a Farm for the Future
Rising fuel prices are a wake up call for filmmaker, Rebecca Hosking, as she investigates how to transform her families farm in Devon into a low energy farm for the future. Going beyond mere alarm raising to present practical, ingenious solutions from pioneering farmers and gardeners, Rebecca shows that nature holds some surprising keys to abundance.
The Agro Rebel: Permaculture in the Salzburg Alps
By adhering to the laws of nature and designing the work out of agriculture, Austrian farmer, Sepp Holzer, and his wife, Veronika, farm over 100 acres with no outside help nor annual plowing, successfully cultivating cherries, apples, mushrooms, kiwis, lemons, pumpkins, and fish all on steep hillsides high in the alps where no one else would dream of farming.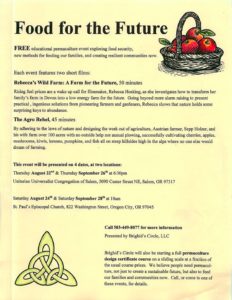 Presented on 4 dates at two locations:
Saturday August 24 & Saturday September 28 at 10am
St. Paul's Episcopal Church, 822 Washington Street, Oregon City, OR 97045
Thursday August 22 & Thursday September 26th at 6:30pm
Unitarian Universalist Congregation of Salem, 5090 Center Street NE, Salem, OR 97317