Looptworks is a Portland company that creates a sustainable clothing line and accessories by upcycling fabric and other components from clothing industry pre-consumer waste. The hip clothing line uses would-be cast-offs, everything from fabric to fasteners, and thread to zippers, to make its apparel.
The average textile factory produces 60,000 pounds of pre-consumer waste weekly. The waste can be mill‑ends, scraps, clippings, overstock, or goods rejected for, or damaged during, production. Some of the excess is cut into rags, but much of it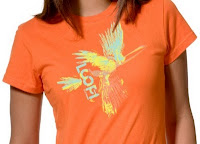 is thrown into landfills.
While thrift shops and garage sales can help consumers save money and reuse clothing that others have discarded, they aren't always the answer. When shoppers are looking for a greener alternative to the new clothing in most retail stores, Looptworks offers well-made, reasonably priced eco-fashion.
Sources: Trend Hunter|Looptworks