"The Warehouse", a unique business in the Brooklyn neighborhood at 3434 SE Milwaukie Avenue is home to a collection of resources and services meant to connect, sustain, nourish and support families, our local food shed and the environment. The project started out in 2007 as a meet-up group for mothers called Portland Green Parenting, in the home of founder Rebecca Andersson. "As the group grew, the needs of families with young children became clear. The moms who joined wanted healthy yet affordable foods, non-toxic baby goods, and to be more conscious about how we spend our money so that we tread more lightly on the Earth."
Today the Warehouse includes:
Warehouse Cafe, a WiFi equipped coffee shop. In the growing season, May through September, Warehouse Café will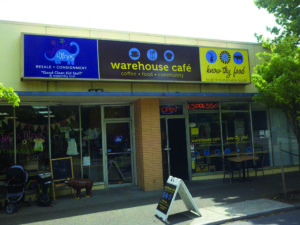 host five Farm to Table Dinners featuring some of the best producers and growers that sell via Know Thy Food.
Know Thy Food, a year-round online farmers market and food buying club that harnesses the buying power of more than 450 Portland families to purchase affordable organic produce, milk, eggs, and meat from Northwest farms; organic dried goods from Northwest distributors, including honey, dried fruit, nuts, seeds, oils and spices; and much more.
Daisies and Dinos, a children and maternity resale and consignment shop.
Be Academy, a nationally accredited, K-12 alternative to alternative schooling. Members are served with one-on-one instruction and collaborative workshops throughout the week.
Affordable event space for private and public gatherings.
Activities, including family friendly concerts, art classes, yoga sessions, and art exhibits.
Contact: Rebecca Andersson, 503-544-5196, rebecca@portlandgreenparenting.com or go to http:// portlandgreenparenting.com