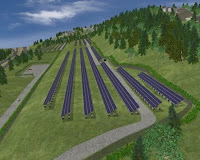 Oregon Department of Transportation, (ODOT) is moving ahead with a proposed public-private partnership on a $20 million solar panel project along I-205. The partnership would allow tax credits to be used to improve the region's electrical grid and meet ODOT's energy needs without passing the cost to taxpayers.
The use of technology, raw materials, and labor from Oregon companies to build the 3.2 megawatt project is another ODOT selling point.
West Linn and Oregon City residents have raised objections to the installation of the solar panels. Some believe that while solar technology is good, it's unsightly and inappropriate for their area. Others have raised technological and environmental concerns unrelated to aesthetics.
On July 27th, the West Linn City Council voted 4-1 to continue working with ODOT in support of the Solar Highway project to provide for a renewable energy source to assist in lighting the state/federal highway system.
Oregon City also appears to be committed to supporting the project and held a Solar Town Hall on the 29th of July to exchange information with the public.
Image Source:
City of West Linn