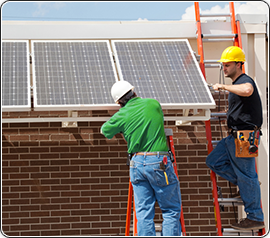 RS Energy is a full-service solar energy developer based in Portland, Oregon that helps private and public-sector clients switch a portion of their electrical demand to clean, renewable solar power. RS Energy assists clients with individualized solutions and the relevant information needed to make a decision on switching to solar. RS Energy will take care of everything from tax documentation to solar panel installation. – Ed.
PRESS RELEASE
PORTLAND, Ore. Beginning July 1, Oregon residents who use certain power utility providers are eligible to be paid for the solar energy they produce through the new, sustainability-centered, solar incentive program offered by the state.
Portland General Electric, Pacific Power and Idaho Power customers are eligible to be paid a fixed premium for all the solar energy they produce over the next 15 years, when they install solar energy systems on their homes or businesses. These customers can earn up to $6,500 per year. This incentive is available through Oregon's recently introduced Feed-In Tariff, which has a limited capacity for participation.
RS Energy, a local solar energy provider, is offering public information meetings to explain the Feed-In Tariff program and review solar energy basics. The meetings will be held at a number of times in various locations in the Portland metropolitan area, Salem and Bend.
Related Reading:Solar Electricity Handbook: 2010 Edition, A Simple Practical Guide to Solar Energy – Designing and Installing Photovoltac Solar Electric Systems