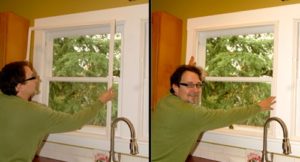 Portland's newest green business wants to save Oregon residents money on their energy bills and save the planet at the same time. Indow Windows, located in Portland, recently scaled up its operations and is producing its patent-pending window inserts for customers throughout the Portland metro area.
Indow Windows are sheets of acrylic glazing edged with a patent-pending spring bulb, that simply press into place on the inside of a window frame, providing a tight seal against cold winter drafts without any nails, screws, or adhesives. They provide insulation and energy savings comparable to double-paned windows, yet at a fraction of the cost. They can be easily removed and stored during the summer or anytime a homeowner wishes to open a window.
After independent performance testing, the inserts, in combination with an existing single pane window, were shown to be as good as or better than double- and triple-pane replacement windows in air infiltration and were 94 percent as effective as double-paned windows at "R value," which measures the thermal resistance of window. When installed in a single pane window they also performed better at reducing sound transmission than double-paned windows did, delivering a 10 decibel reduction, which feels like a 50 percent reduction in noise.
One of the best performance features of this product is the ease of installation, which can be performed in hours rather than days, and without a major renovation's hassle and high cost.
Currently, they are only available for Portland metro residents, although founder and CEO Sam Pardue plans to make the product available across the state in coming months and across the country over the next few years. Pardue believes the product will make homes warmer, quieter, greener and more comfortable.
"Homeowners will be pressing Indow Windows into cold, leaky window frames, and with each installation, we will share a victory over soaring heating costs, cold drafts, economic malaise, and environmental destruction," said Pardue.
See Indow Windows at an Open House:
1725 NE Clackamas St.
Dec, 5: Noon to 4PM and on Dec, 6: 3:00 to 6:30 PM.
For More Information: 
http://indowwindows.com Sam Pardue, CEO, Indow Windows (503) 516-5569, sam@indowwindows.com