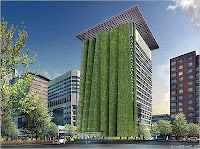 According to a recent New York Times article, Portland's Edith Green-Wendell Wyatt Federal Building is slated for a green facelift. A vertical garden will take the form of 'fins' two-hundred feet tall on the western façade of the building.  While details of construction and maintenance aren't clear, the G.S.A. estimates an annual energy cost savings of $280,000. If solar panels and rainwater are put into use, 15% of the building's power needs and 68% of its water consumption could be met.
From the New York Times:
"It will be one of the more energy-efficient high-rises in America, possibly in the world," said James Cutler, whose architecture firm, Cutler Anderson, led the design work.
Green Living Journal hopes to provide updates on the project here as more is learned.
Image Credit: 
Scott Baumberger/SERA Architects – Architectural rendering of the trellises designed to shade the western facade of the main federal building in Portland, Ore.