WINTER 2009 Issue
The winter issue of the Green Living Journal Columbia River PDX is being distributed in Portland this week and should be available at the usual places by the end of next week. Meanwhile, you can read the magazine online. Be sure to share it with your friends.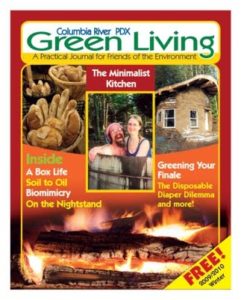 Related CONTENT
Readers of this blog might be interested in the A Box Life interview. It's an update to a post we did in October about Columbia Sportswear's used shipping box program.
We wrote about Earthen Hand and Scott Howard last month. You can see photos and read more about Earthen Hand's building methods in the magazine.
Other CONTENT
The Green Living Journal team works to provide fresh and relevant content for the quarterly publication. The Winter issue covers several topics of interest: Biomimicry is addressed in both the Publisher's Page and in a Book Review,  Health and Lifestyle topics range from handwashing to green burial. In addition to, A Box Life, FSC Paper and Dissovable Packaging get attention. There's more, of course, all in both the print and online versions of the magazine.
ADVERTISERS
The Green Living Journal is free to read online and in print because of the advertisers. The advertisers not only make the magazine possible, but make some very interesting products and services available to their customers.
The online magazine links to each advertiser's web page, email, or more information page when the advertiser's ad is clicked. Exploring advertisers' offerings is well worth the small time investment. Since browsing doesn't require driving or even getting out of a favorite lounge chair, it's a low impact way to keep up with what is available in the marketplace.
–