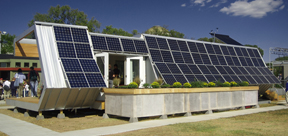 According to GTM Research and the Solar Energy Industries Association's (SEIA) Q2 2014 Solar Market Insight Report, the     U.S. solar industry is nearing 16 gigawatts (GW) of  installed capacity. This is enough to power more than 3.2 million homes.
"Solar continues to soar, providing more and more homes, businesses, schools and government entities across the United States with clean, reliable and affordable electricity," said SEIA President and CEO Rhone Resch.  "Today, the solar industry employs 143,000 Americans and pumps nearly $15 billion a year into our economy.  This remarkable growth is due, in large part, to smart and effective public policies, such as the solar Investment Tax Credit (ITC), net energy metering (NEM) and renewable portfolio standards (RPS).  By any measurement, these policies are paying huge dividends for both the U.S. economy and our environment – and should be maintained, if not expanded, given their tremendous success, as well as their importance to America's future."
Just how fast is solar growing? Well, the amount of residential and commercial solar energy more than doubled between 2012 and 2014. There are now more than half a million homes and businesses generating solar energy. Even more impressive though, is the growth in utility solar generation, which quadrupled in the same two year period.
Photo – Solar Decathlon 2007 – Kansas project courtesy of Flickr member Jeff Kubin