Get your family together for some green time instead of screen time! Explore nature with bird watching, mushroom hunting, edible plant excursions and nature walks at Columbia Springs' upcoming Family Field Trip Day.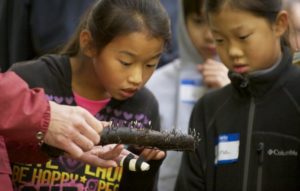 Bring the whole family to explore the wonders of nature on Saturday, November 2, from 10 a.m. – 2 p.m. The event is open to children of all ages. Participants will experience some of the same hands-on explorations that over 5,000 local school kids get to enjoy each year during their field trips to Columbia Springs. This hundred-acre urban natural area and historic fish hatchery is located at 12208 SE Evergreen Highway, Vancouver, WA 98683.
The cost to participate is $5 per child and free for adults accompanying children. Food will be available for purchase, and picnicking areas are available on site. Water will be available to refill reusable water bottles.
Walk-ins are welcome, but register on-line by Thursday, Oct. 31 to insure your spot. Registration is available at www.columbiasprings.org/family-field-trip-day/ or by calling 360-882-0936 ext. 230.
This event is presented by Waste Connections Inc. and sponsored by Mill Plain Shipping Center with support from Johnson, Bixby & Associates LLC, Tidewater, and Columbia Credit Union.
For more information, contact Events and Volunteer Coordinator Carissa Thomas at volunteer@columbiasprings.org or by calling 360-882-0936 ext. 230.
Columbia Springs' mission is to offer our community a unique setting where educational experiences foster greater awareness of the natural world, inspiring stewardship. On the web at www.columbiasprings.org