In what we can all hope will become a widespread practice, West Hills Collision Center has recently purchased an all electric Nissan Leaf which will be used as a loaner car for customers that are having their cars repaired at their shop. They have also ordered a second Leaf for the same purpose. As you can see from the photo, the car is conservatively, but obviously painted to advertise that here is an electric loaner from West Hills.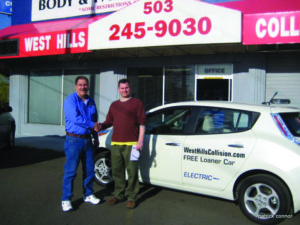 Now if you're having a problem trying to understand why a savvy business owner would invest in EVs that carry a premium price tag to be used as loaners, or worse yet, if you think this might be just another slick sales gimmick to put the spotlight on his business, then you need to take a closer look at the man behind this idea.
Don Blazer is a passionate fan of the electric vehicle (EV). He owns a fleet of EVs that he has been using since 2004 at his West Hills Collision Center to give customers rides, pick up parts or run errands. He has, over the years, searched across the country to find and buy EVs that he could bring back to Oregon for sale to waiting customers. Also in 2004, Don parked his Chevrolet Tahoe (with only 40,000 miles on it) and has been driving an EV ever since. The Tahoe is still right where he parked it 7 years ago. He is an active member of the Oregon Electric Vehicle Association (OEVA) and promotes the adoption of the EV by showing his EVs at OEVA and other green community events. He also takes the time to contribute thoughtful and pointed comments on various EV forums on the Internet.
Don is a passionate fan of the EV all right, but he is not a fanatic, nor is he an EVangelist. He is a thoughtful businessman, a concerned parent, and a worried citizen who has chosen to be an EV pioneer for all the right reasons. He is taking his hard earned money and investing it in what he feels to be the solution to reducing the toxins in the air that his family breathes, ending the flow of US dollars to OPEC, and increasing our country's security by ending our dependence on foreign oil.
So he drives EVs, he promotes EVs and now he is investing in EVs that will be used by customers, thereby giving them the chance to live with and drive for days at a time. He's betting that a percentage of those folks will, at the end of their trial ownership, see the EV the same way he does and join the revolution. In doing this Don is risking well over $70,000 with the hope that people will appreciate the opportunity that has been given them and treat the EV with a lot more respect than the usual loaner receives.
The car was first loaned out on May 3rd, to a Prius owner whose car was going to be in the shop for about a week.
The next time you're out in the 8300 block of SW Barbur Blvd. you might want to stop in and thank Don for his commitment to improving our world. You can learn a lot more about Don, his business and what else he is doing to make a difference at http://www.westhillscollision.com/.net
Photo courtesy Pat Conner of OEVA.org