Step Back in Time for a a Weekend at the Dufur Threshing Bee.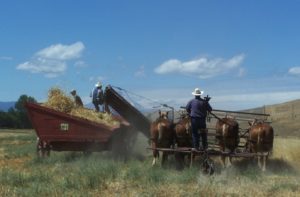 August 9th & 10th in Dufur Oregon.
FREE ADMISSION
Using old-time machinery and draft horses, wheat is harvested as you would have seen at the turn of the 20th centry. This year's Threshing Bee is August 9th & 10th.
Highlights of the Threshing Bee
Grange Breakfast. Both Saturday and Sunday, from 6am to 11pm, Breakfast is served at the city park.
The Parade. 10am on Saturday morning, horses, tractors, and more parade down Main Street to kick things off.
Live Music!
Harvesting. This includes both horse-drawn threshers and the steam-powered wheat separator. Go out in the field with the equipment, see it in use, and hear explanations from people who've actually used them.
Tractor Pull. This starts Saturday at 1pm. All sorts of old tractors compete to see which machine really has the most power.
Wheelwright Demonstrations.
Classic Car Show. The city park hosts a classic car round up. Come wander through and look at them!
The Car Show runs from 9:30am to 2:30pm on Sunday.
Awards will be given out at 2:30pm.
Breakfast, as well as hamburgers and hot dogs will be available.
There will be  music and raffles as well.
Entering your car in the show costs $12.00..
Quilt Show. Quilts are shown off in the museum. One quilt will be raffled off. Tickets can be purchased for $1.00 or 6/$5.00.
For more information contact The Dufur Historical Society http://www.dufurthreshingbee.org