To the folks at Quirky, the challenge was simple: In honor of the Copenhagen Summit, show the world the positive impact of eco-efficient product design and collaboration by completing the conceptual production design of an enviornmentally and socially responsible product — in 24 hours.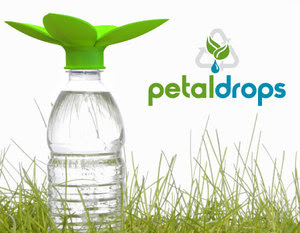 Dubbed, Petal Drops, the end result is a 100% recycled HDPE flower-shaped rain-collection funnel that fits the standard threaded tops of  plastic water and soda bottles. The captured rainwater can then be repurposed for watering plants, washing the dog, flushing the toilet or any other rainwater-appropriate use.
Petal Drops equipped bottles collect rainwater while blending in with the plant life on a patio or in a garden. Pebbles in the bottom of the plastic containers will help to keep them in place when the wind blows. Once filled, the bottles can be emptied to water a house plant, garden, pet or into a larger collection container for grander uses.
Here, in the Pacific Northwest, things that make good use of rain, make good sense, so Petal Drops might be a product worth considering.
The Petal Drops tops are available for pre-production purchase at a less-than-retail price. Once the requisite number of tops are pre-sold, Petal Drops will go into production and the orders filled.
Quirky is a community of product designers, graphic artists, wordsmiths, and people with opinions. Those with product ideas can submit them to a crowdsourced process of evaluation. Once a product is selected for production,  naming, design, manufacture, and marketing follow. Every step has some type of crowd input. Anyone can participate by signing up. Participation can range from product, name, or logo submissions to sharing opinions and voting to product purchase.


Reference: Quirky