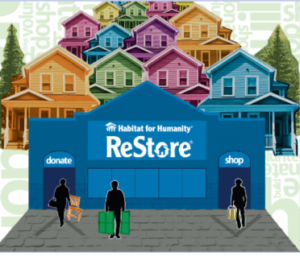 The Clark County Habitat for Humanity ReStore moves to 10811 SE Mill Plain Blvd in Vancouver (just off I-205). this July. The new building will house both the HFH Store and Evergreen Habitat for Humanity offices. The HFH Store closes its 5000 E 4th Plain Blvd address by June 30.
The new site offers a convenient destination for both shopping and donating materials. ReStore supports Habitat for Humanity's local home building programs. Come visit them at their new location.
Grand Opening July 25-26. Special sales both days. Come for a ribbon cutting Friday, July 25 at 9:00 a.m. Stay and shop after the ceremony, or join us for a free BBQ that day from 11 a.m. to 1:00 p.m.
On July 26, we'll be joined by the BIA Remodelers, who will hold a garage sale in our parking lot from 8 a.m.-4 p.m. Come find great deals, both in our store and at the garage sale!
For more info: pdxrestore.org