If you've ever stayed in a hotel, you've probably seen one of the ubiquitous "linen cards" with the typical message: "We change your linens every other day in order to save the planet. If you want your sheets and towels changed every day, leave this card on the bed." Wow, pretty great, right? These businesses are so eco-friendly – or perhaps not. Before you get excited about how every hotel in existence is contributing to sustainability, let's take a quick look at what really makes a hotel eco-friendly (and what doesn't), and how to spot the real thing from among the fakes.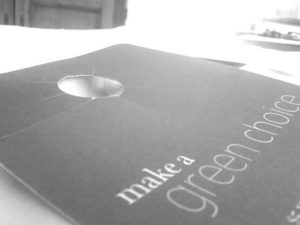 Image credit: Henry Schimke
The Profit Motive
Linen cards alone do not an eco-friendly hotel make. They may slightly reduce a hotel's water usage, but they don't show the hotel's dedication to environmentally-friendly practices across the board. So why do so many hotels buy into the linen card gimmick without contributing to sustainability in other ways? The reason is age-old: it pays. In fact, a study by Cornell University found that, even during an economic recession, consumers often choose to patronize businesses that they believe to be environmentally responsible. A lot of businesses are eager to get on that bandwagon as a form of marketing without actually making a substantive contribution to sustainability.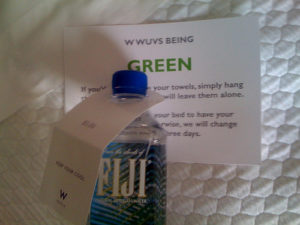 Image credit: Mat Honan
The Real Thing
Businesses that are serious about committing themselves to an ongoing pattern of environmentally responsible practices should have more to show for their efforts than just a bunch of linen cards. Truly eco-friendly hotels should be focusing on water usage (overall, not just when it comes to washing linens), power usage and waste control, among other things. Check out the below examples of hotels that are actually stepping up to make an environmental difference.
The Shore Hotel in Santa Monica, California: The Shore Hotel, an LEED-certified hotel west of Los Angeles, has reduced its power usage by installing controls that cut back on heating and air conditioning as well as lighting when the rooms are unoccupied. The building is also constructed in a U-shape, facing the ocean, in order to maximize natural light coming into the rooms.
Inn by the Sea in Crescent Beach, Maine: The Inn tries to cut back on waste by using recycled flooring in the gym, recycled sheet rock in the spa and recycled packaging for room amenities. The pool is heated with solar panels, and the rooms are cleaned with non-toxic, Green Seal products.
h2hotel in Healdsburg, California: This hotel actively pursues sustainability in several unique ways. It has a "green roof" that filters rainwater, boasts an elevator (made of 95% recyclable materials) that uses 60% less power than a traditional elevator and provides bicycles as well as bicycle storage for guests.
So, How Do You Know?
How can you tell whether your desired lodging destination is the real deal or a fake? First, check whether the hotel is Green Seal or LEED certified; these organizations specialize in finding businesses that do more than simply "talk the talk". Second, call up the hotel and ask whether they consider themselves to be eco-friendly and why. You may have to work through several stammering paper-pushers at the front desk before reaching someone who knows the answer, but be assured that if it truly is a green business, you will get the information you're looking for.
Lorena Starkey lives and works in beautiful Minot, ND. Stop in for a comfortable stay in the great West and say hello to her at the Minot Hyatt House or stop by her Google+ profile.