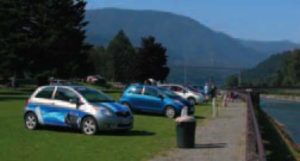 Imagine three Nissan Leafs (one red, one white, and one blue), and a couple of converted Toyota Yarises (one with a splashy Monavie ad), all caravanning 290 miles from Portland to John Day, OR. We were taking our electric vehicles (EVs) to SolWest, a yearly enduring renewable energy and sustainability fair, to show them off at the three day event.
The Oregon Electric Vehicle Association (OEVA), offered me a carpool since I'd given up owning an automobile in December 2011. Besides, I wanted to learn more about these EVs. The OEVA, which advocates for electric vehicle use in Oregon, was well represented with engineers, an equipment dealer, and a DIY car converter, all jazzed to share the fun and driving puzzles of the trip. A puzzle it was, too, since we pass no fast charging stations in eastern Oregon.
The Nissan Leaf has a range of about 100 miles, where the Yaris can go about 40 miles more, so deciding how and when to stop for the five vehicles was an exercise in flexibility. After topping off on Electric Avenue (a.k.a. Portland State University's fast charging station in downtown Portland), OEVA picked me up in and we headed east.
First fueling stop was Cascade Locks where I learned that RV parks generally have 240 Volt outlets, the equivalent of a Level 2 charging station, which can recharge a Leaf zero to full in about six hours. A few leisurely hours there included a look at an EV "tool kit" consisting of several plug-in adapters and related tools.
After Cascade Locks, we stopped briefly in Hood River to check out the new Level 2 charger, but it was not yet operational. Apparently there is also a DC Quick Charger (Level 3) in Hood River which charges to 80% in one half hour. We'll have to look for it on another trip. Onward to Dufur.
We made it to the RV park in Dufur, but encountered circuit breaker problems which we overcame by rearranging the vehicles. We dined in
a local restaurant, buying and browsing the local store and paid the RV park manager $5 apiece for our share of the power used.
Condon was our next destination for a charging stop, so we mostly coasted down from Dufur to I-84 topping off the already almost full batteries. Then some unexpected excitement, for as we headed east to Biggs, we passed by the flames of a large brush fire across the river. At Biggs we turned south, and climbed up on the plateau dotted red with wind turbine lights. The instrument panel showed our available range starting to drop. With our hill-climbing, we'd dropped to five miles of range left, so we slowed our speed from the 55 mile speed limit to 35-39 miles per hour to gain a few extra miles. I wondered what we'd do if we ran out of juice.
At midnight, with all the gas stations closed, three Leafs took turns plugging into the 240 and 110 volt sockets available at Grey and Sun, a green building and solar store. A neat sign posted there read, "Honor System, Charging $.50 per kW". We dutifully paid $7 for 14 kW that would get us the 20 miles to Fossil , and at 1 am we departed.
Arriving in Fossil around 1:40 am we pulled into In the Sticks Juniper Saw Mill, to recharge. The Yarises, with their longer range, had already arrived and were charging from the mill's two outlets. We rearranged vehicles, and at 2 am, I put up my tent and went to sleep. I barely heard the car motors as they rearranged again, maximizing the plug configuration to fuel the cars simultaneously.
Six hours later we gathered for breakfast, with one Leaf driving into town as our EV ambassador, while the rest of us walked. We had a great breakfast at the Timber Wolf Café. Leaving Fossil, we made our way along the John Day River past the layered sandstone walls of the John Day Fossil beds.
We stopped in Dayville to charge at a large garage of a SolWest friend, went to lunch, and bought stamps at the local post office.
Thirty-two hours after we left Portland, most of us made it to John Day and on time. One converted Yaris missed, as it had no range indicator and ran out of charge. He arrived later. We were also joined by an EV coming from Bend and an e-Veepster. In the end we measured about 67 kW for a Leaf to travel one-way (290 miles).
I'll enjoy the memory of this trip, especially as I am sure this picture will change as more DC quick chargers and other Level 3 charging stations are deployed.
Up from two EVs last year, OEVA is working towards the day when EVs will come from all parts to join at SolWest, demonstrating the practicality of EVs in beautiful, remote, and spacious Eastern Oregon.
Diane Henkels, Attorney, Cleantech Law Partners http://www.cleantechlawpartners.com