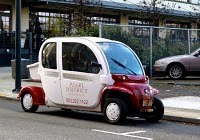 For those of us who believe that the electric vehicle (EV) is the best way, in the foreseeable future, to lessen the environmental impact of our personal transportation needs, 2010 holds great promise.
This is the year that many plug in EVs, that you will be able to drive in town as well as on the freeway, are due to go on sale: Arcimoto (an Oregon company) BYD, Coda, Chevrolet, Mitsubishi, and Nissan are among companies that are slated to have cars available this year.
Plug In America tracks the status of EVs and their list is available here.
The good news is that if you keep a sharp eye out as you drive around town you will spot EVs already in service such as the one above seen yesterday on NW 14th. This appears to be a Global Electric Motorcars (GEM) vehicle being used by Pearl District Properties. We have also spotted EVs operated by Hot Lips Pizza and Clean Air Lawn Care in our travels around PDX.
Kudos to you folks for raising the bar for the rest of us! Just maybe the EV will become as popular here in the Northwest as the Prius hybrid.
Blue sky ahead.
–