Tour the Gorge Green Homes
Gorge Green Home Tour – Saturday, October 5, Starts at 9 am at Hood River Waterfront Park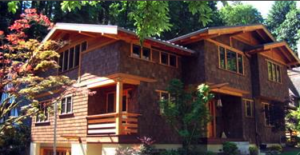 The cost of the tour is $10 per person or $25 per carpool of three or more. Cyclists are $5. Entrance into the Expo is included in the ticket price.
Presented by Gorge Owned (GO!) and the Energy Trust of Oregon, the self-guided tour features 10 homes in Hood River and Mosier that showcase everything from "tiny home living" and green roofs to deep energy retrofits and renewable energy.
The tour showcases many cutting-edge homes, including the first recycled polystyrene house in the Gorge. This is a beautifully crafted post-and-beam home by GreenHome Construction featuring an Insulated Concrete Form wall system, tight building shell, living roofs and a 3-kilowatt solar system. Also on the tour – a tiny home (128 square feet) designed and built by Mosier resident Leslie Nuckoles. Modeled after the infamous Tumbleweed Tiny Homes it will provide participants with a look into space-efficient home design.
Pre-Tour Expo – Friday, October 4, 5 – 8 pm at Springhouse Cellar Winery. Cost $5 (free with Gorge Green Home Tour ticket purchase).
The Expo features green building products and service providers. Meet this year's Green Home Tour homeowners, enjoy pizza from Solstice Wood Fired Cafe, drink local wine and learn about innovative building practices.
For more info:  http://gorgeowned.org/