Solar Now! University (SNU) is a conference for those who make and want to make solar projects happen in the Pacific Northwest. It's where community leaders connect with industry experts; where big ideas meet hands-on information; and where renewable energy leaders illuminate where solar is now and how to help steer it.
This year's conference is hosted by the City of Hillsboro, about 20 miles east of Portland. It begins Thursday evening, June 12th, with a Meet-and-Greet at the U.S. headquarters of SolarWorld, a global leader in photovoltaic module production. In addition to networking, attendees can take a behind-the-scenes tour of the company's manufacturing facility, the largest such production plant in the Americas.
Friday features a full day of sessions at Hillsboro's main library. Saturday offers opportunity to see solar installations in the field.
This year's program sessions will cover topics on:
• Community Solar – the next big thing in solar development at the local level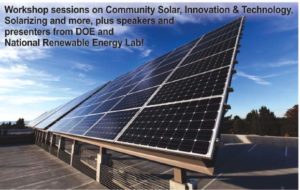 • Innovation and the sharing of solar best practices
• Solar options for homes, businesses, public buildings and communities
• Financial re-engineering, tax credits, incentives and grants
• Solarize train-the-trainer track
• Laws and policies that impact solar in the Pacific Northwest
• Solar Oregon and City of Hillsboro are part of Northwest Solar Communities / a Rooftop Solar Challenge II grant program sponsored by the U.S. Dept of Energy. We'll inform about this work to remove "soft cost" barriers to solar in our region.
Friday also includes a luncheon and a dinner, still more opportunities to network and learn. More sessions will be offered Saturday morning, followed by a luncheon and afternoon tours of local solar projects. Attendees will have a choice of several tours, to be announced.
Click here to view a complete list of SNU speakers.  Complete SNU agenda
Come to Solar Now! University in Hillsboro June 13-14, 2014. You'll connect with other solar users, advocates and experts and get information you can actually apply – now, and for the future. Join us for our conference kick-off Meet and Greet, June 12, 6:00 pm at SolarWorld!
Questions? Contact the Solar Oregon Event Manager, Holly Murphy at [email protected] 503-231-5662. Online registration closes at midnight, Wednesday, June 11. No need to print out tickets, check in at registration on Friday, June 13.